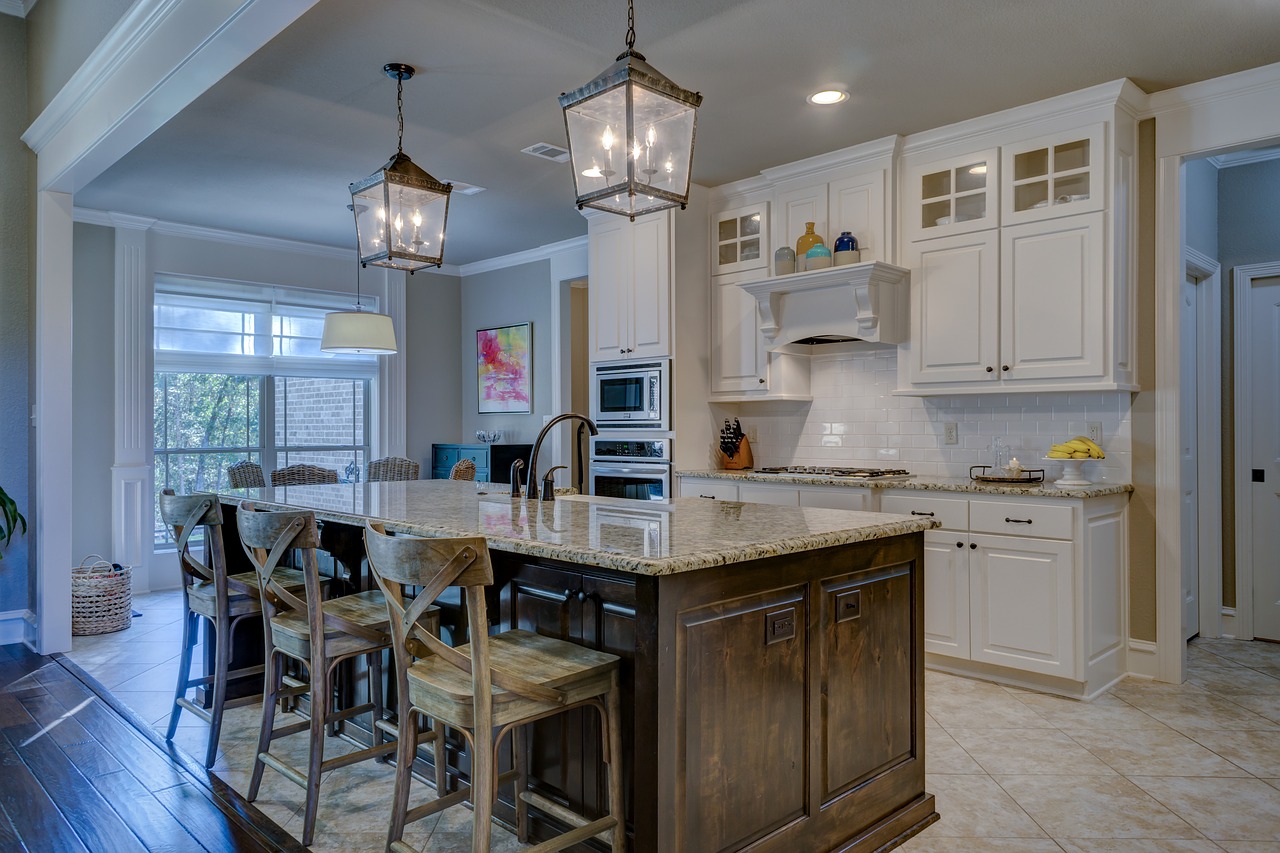 When guests arrive in your home, one of the first things you want them to know is that you keep a clean kitchen. These days, keeping a kitchen spotless can involve a whole host of different cleaning products. Luckily, the dollar store has kept up with trends in cleaning supplies, and usually has an answer for any product you'll find at other retailers. We've put together a list of the best cleaning supply basics for any germ-free modern kitchen that you're sure to find at the local dollar store.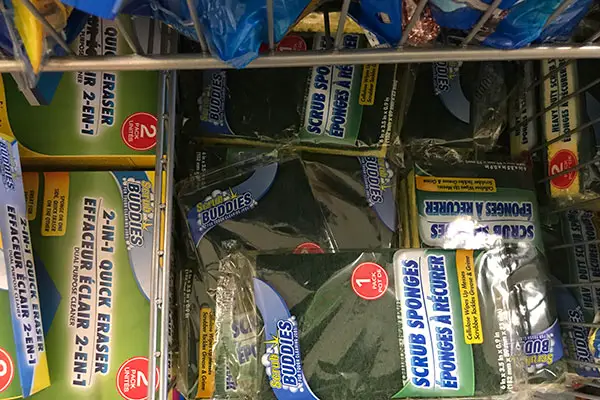 1 – Scrub sponges
Whether you need them for the tough stains on the bottoms of your pots and pans, or for keeping the smooth surfaces of your sink and tile clean, scrub sponges with their wiry scouring side and their soft sponge side are one of the most versatile kitchen cleaning tools you'll find. Of course, like any hard-working cleaning tool, they tend to wear out after a while, so it's great that you can replace yours easily and cost-effectively at the dollar store!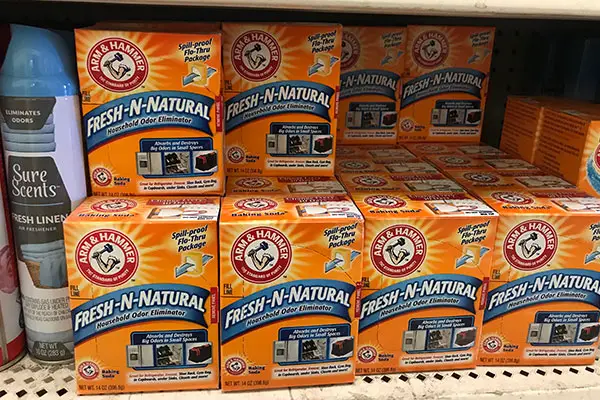 2 – Baking soda
Baking soda is one of those kitchen cleaning secret ingredients your grandma probably taught you about. Inexpensive and non-toxic, you can use it to scrub stains, add vinegar to work some serious cleaning magic, or to deodorize. This is one of those old school kitchen cleaning staples that will never go out of fashion, and the dollar store knows you need it!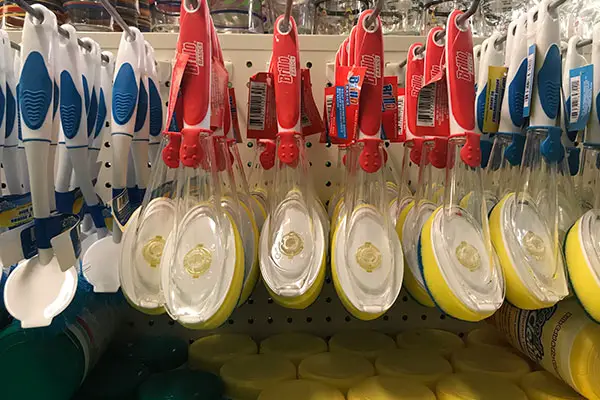 3 – Dish scrubbers with dish soap reservoir
These dish scrubbers with dish soap reservoirs can make doing your dishes a snap. Just load them up with your favorite brand of dish soap and start scrubbing! They can also make for handy or hard-surface scrubbers if that's the way you'd prefer to use them. Once a sort of specialty product, now they're available at the dollar store!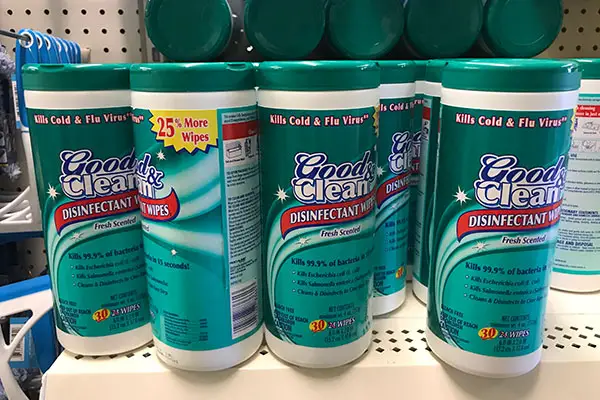 4 – Disinfectant wipes
Disinfectant wipes are a lifesaver in the kitchen. Whether you want to wipe up anywhere you were preparing raw meats like chicken or pork, or perhaps wipe up after a bit of spilled egg, these wipes can do the job to kill dangerous foodborne illnesses that soap and water alone can't. And now this convenience is available at dollar store prices–talk about a win!
5 – Bottle/dish brushes
As dollar stores better learn the sophisticated tastes of their customers, more specialized items become available all the time. So when it comes to doing the dishes, you'll find many sorts of scrub brushes designed for different dish cleaning tasks, whether scrubbing brushes or long-handled sponge brushes for cleaning bottles or glasses. Don't think you need to search through big retail stores and pay high prices for specialty items, try the dollar store!
6 – Gloves
Anyone who's done many dishes or cleaned many kitchens knows a good pair of gloves is a necessity. You've probably got a pair or two under your kitchen sink right now! Now the dollar store stocks exactly the gloves you need so that your next replacement pair will be a bargain. Maybe you should just buy two pair!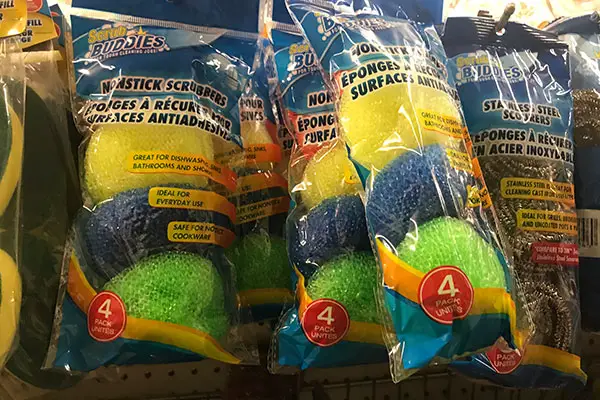 7 – Scrubbers
Scrubbers like these are essential in any modern kitchen. Whether you want one to clean potatoes and other root vegetables, or one to scrub counters, or one to really dig into the stains on your pots and pans–one package can be divided up for the different tasks you need, and they can even be color coded so you don't accidentally use the pot scrubber to clean potatoes! Just be sure to check the recommended uses for any package you pick up and to stay within manufacturer guidelines.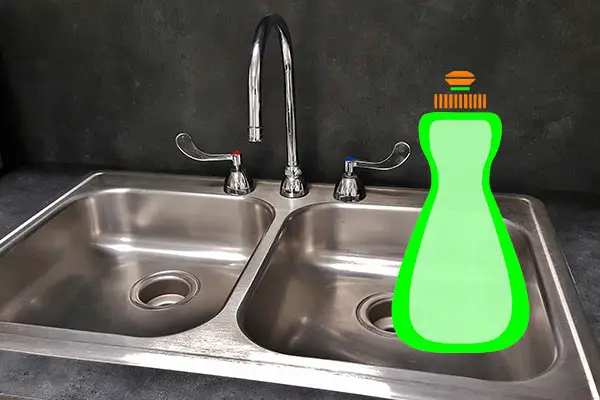 8 – Dish soap
Yes, the most essential kitchen cleaner of all has to be dish soap, and you can buy yours at the dollar store in your area. Most stores stock several brands, and probably some well-known name-brands. Look for some with extra grease fighting or even hand-softening properties!