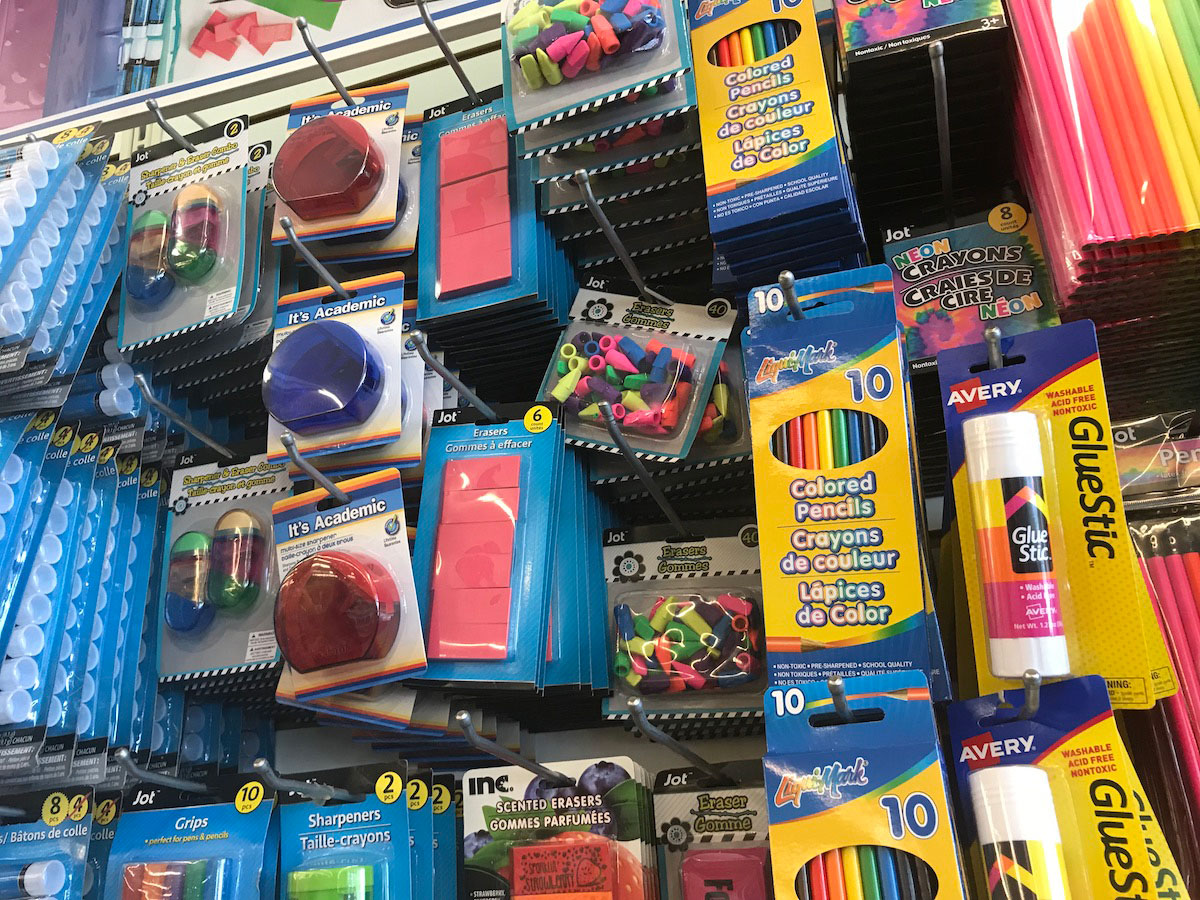 Every parent dreads school supply shopping. You comb over the list of supplies your kid's teacher insists they need and you just see dollar signs adding up. And the worst part is, you know some of those school supplies will need to be replaced because kids are kids, and things will be lost or broken. So the only answer is to head to your local dollar store! Dollar stores are all about helping you school shop, and you will probably find every single supply that you need on their shelves. Even specialty items!
So before you head to a big box store, check out our list of school supplies you can find on the cheap at the dollar store.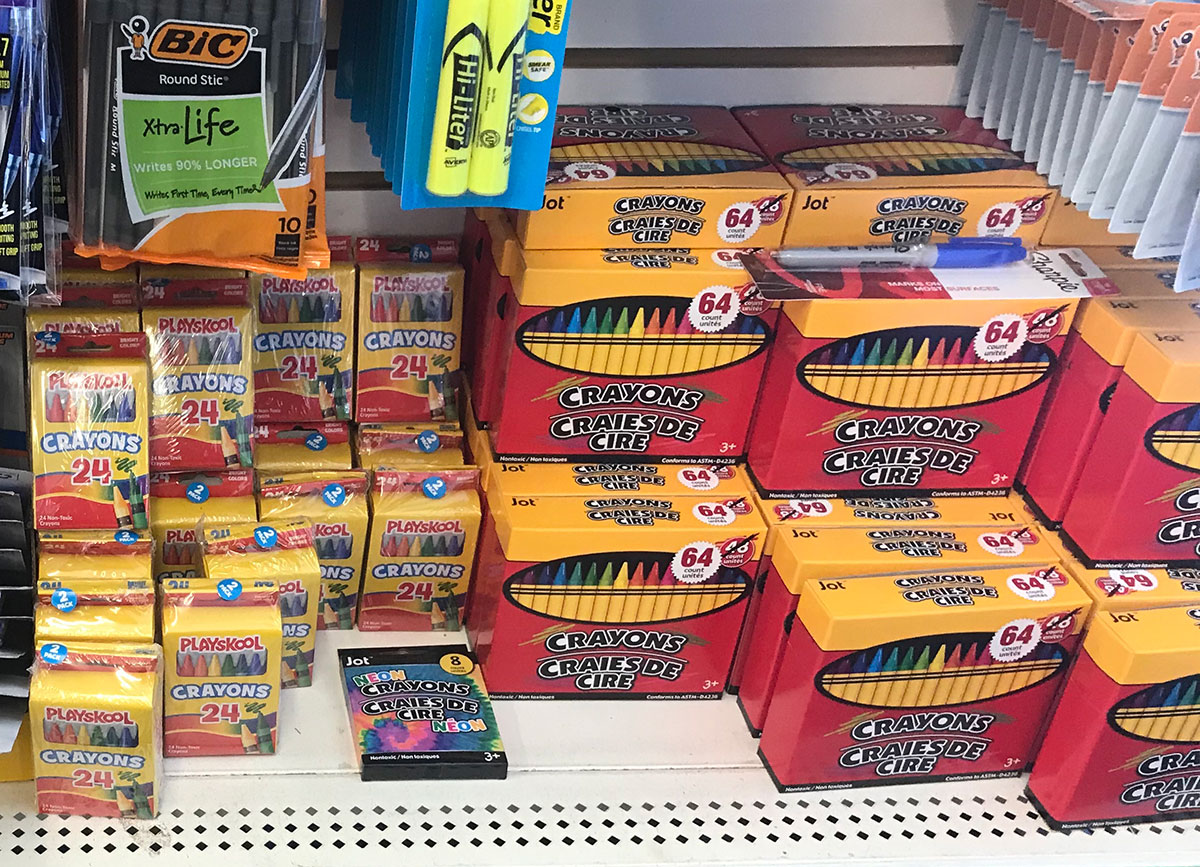 1 – Crayons
No matter how big the box your kid is required to bring, you'll find them for only a buck at the dollar store. And since you already know half of them will be gone by January 1, you might as well buy a second box while you're at it!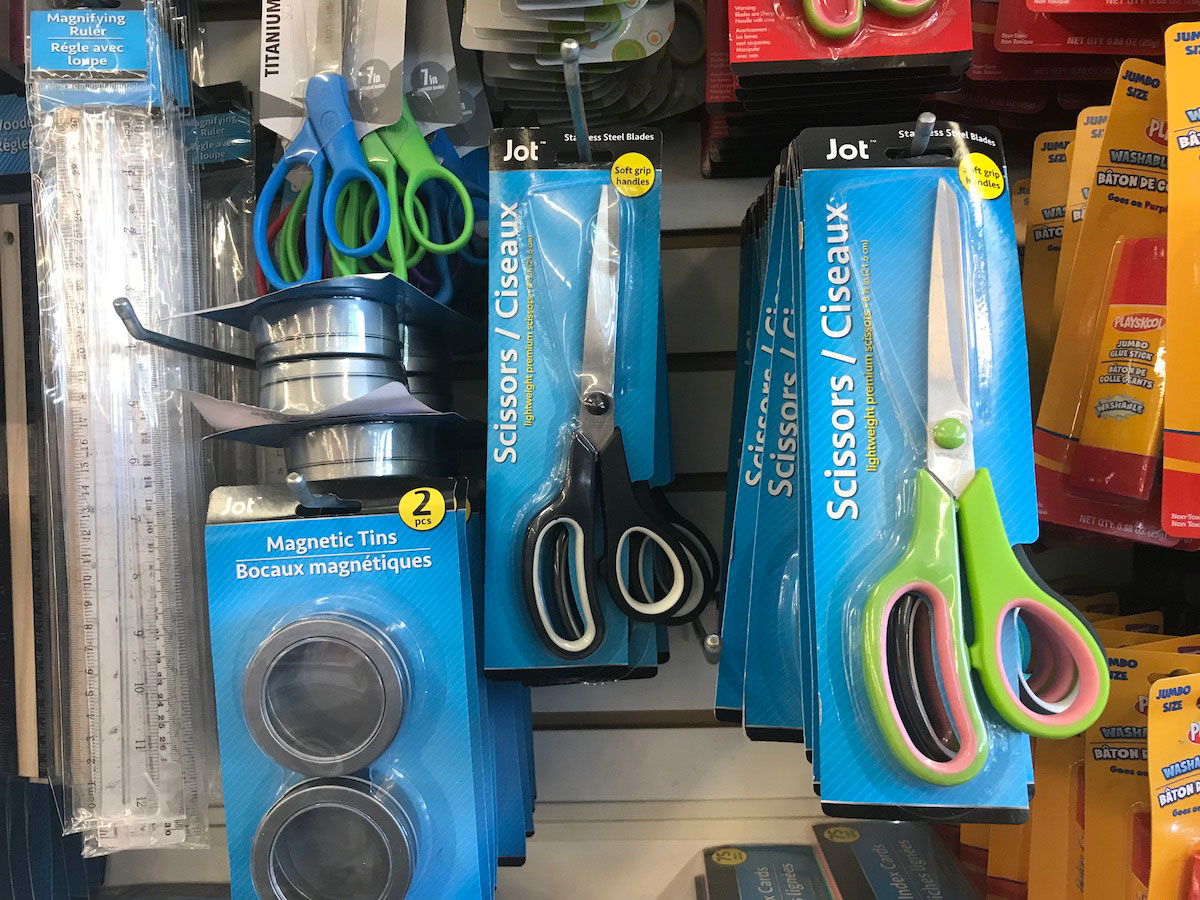 2 – Scissors
The dollar store is a great place to grab a new pair of scissors to start the school year. And feel free to pick up a new pair for yourself while you're at it!
3 – Colored Pencils
Colored pencils are a great art supply, and tend to show up on school supply lists from Kindergarten through Middle School. These can be a very expensive item if you're at grocery stores, or drug stores, so be sure to grab this item at the dollar store.
4 – Student Planner
Your kid's teacher might be more optimistic about their scheduling skills than you are, but this is an item that shows up more and more often on Middle School and High School required supply lists. If you're not sure your child will ever even crack a planner open, why overspend on one? The local dollar store probably has plenty of different types and styles that will work great on only cost a dollar.
5 – Spiral Notebook
Ah, yes, the eternal school supply. Just like your teachers required when you were a kid, the spiral notebook is still going strong. Stock up on your next trip to the dollar store, where spiral notebooks are often half the price of what you'd pay at an office supply store.
6 – Pencil Case
Pencil cases in many sizes and styles will probably be available at your local dollar store, so don't feel like you have to spend big for something your kids will be happy to pull out of their backpacks on the first day of school.
7 – Lunch Supplies
We know you keep an eye on the bottom line, and we know your children's' nutrition is important to you, so we know you're sending lunches from home most days. From lunch boxes to sandwich containers to thermoses, you can't go wrong shopping for these supplies at the dollar store.
8 – Erasers
We all make mistakes! That's why erasers exist. And your kid's teacher probably wants them to have plenty of erasers available to get through the school year. If you see erasers on your school supply list, plan to pick them up at the dollar store. You may even find some fun ones beyond the old standard pink bricks you remember from when you were a kid.
9 – Poster Board
You know there will be a dreaded project or two headed your way over the school year. May as well pick up that poster board you know you'll need while you're school supply shopping at the dollar store. It's a deal that's tough to beat!
10 – Rulers
The great thing about shopping at the dollar store for school supplies is that most items come in multi-packs. This means you'll either have replacements for later in the year, or if you have more than one child, you can split packs between them. Make those school supply dollars stretch just as far as you possibly can!
11 – Markers
We all know the caps are going to be left off a few of these, so don't overspend on them upfront! Buy markers at the dollar store and then you won't have to wail when it's time to replace them again!
12 – Pencil Sharpeners
Small items like pencil sharpeners can go missing fairly easily, so the dollar store is a great place to pick up several of them that you can dispense to your kids throughout the year as their first ones go missing. With multi-packs, you could practically supply your kid's whole class!