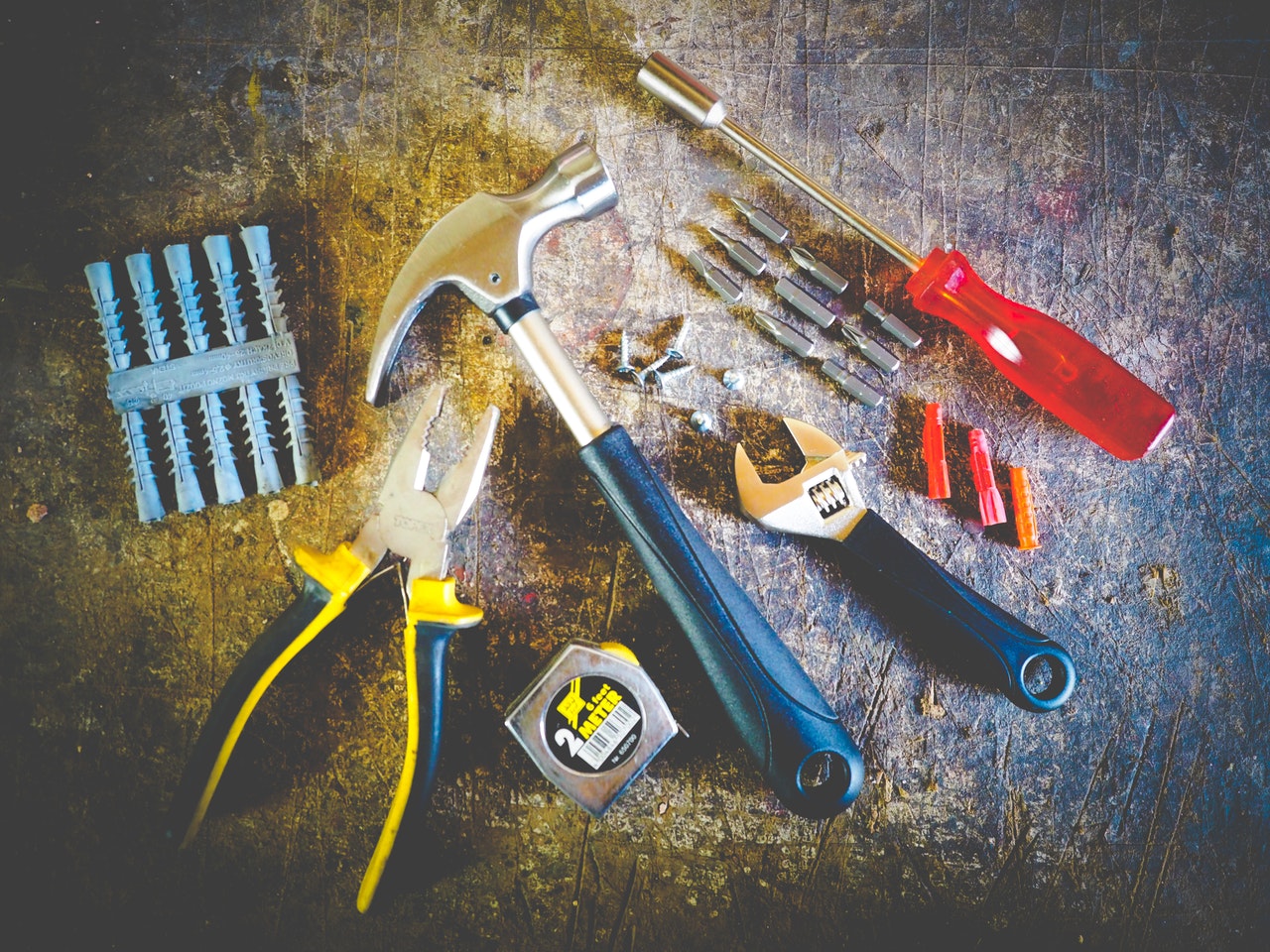 Tools are expensive–very, very expensive. There's a reason your dad always told you to put those pliers back in his toolbox when you were through using them, and that's because of how much it costs to replace them! But your dad didn't have the dollar store to turn to for cheaper replacements. These days, you'll find a large (and ever-expanding) selection of tools at the dollar store. We're continually surprised by what shows up on their tool shelf! The best part is, the savings over big box home improvement stores is massive. While not every item you'll find is investment grade, you won't mind, because $1 isn't much of an investment!
1 – Gloves
No home improvement project begins without all the protective supplies you'll need. And gloves are a key protector in most projects. Now you won't have to feel bad if you get paint on your gloves–you can easily grab a new pair at the dollar store without breaking the bank!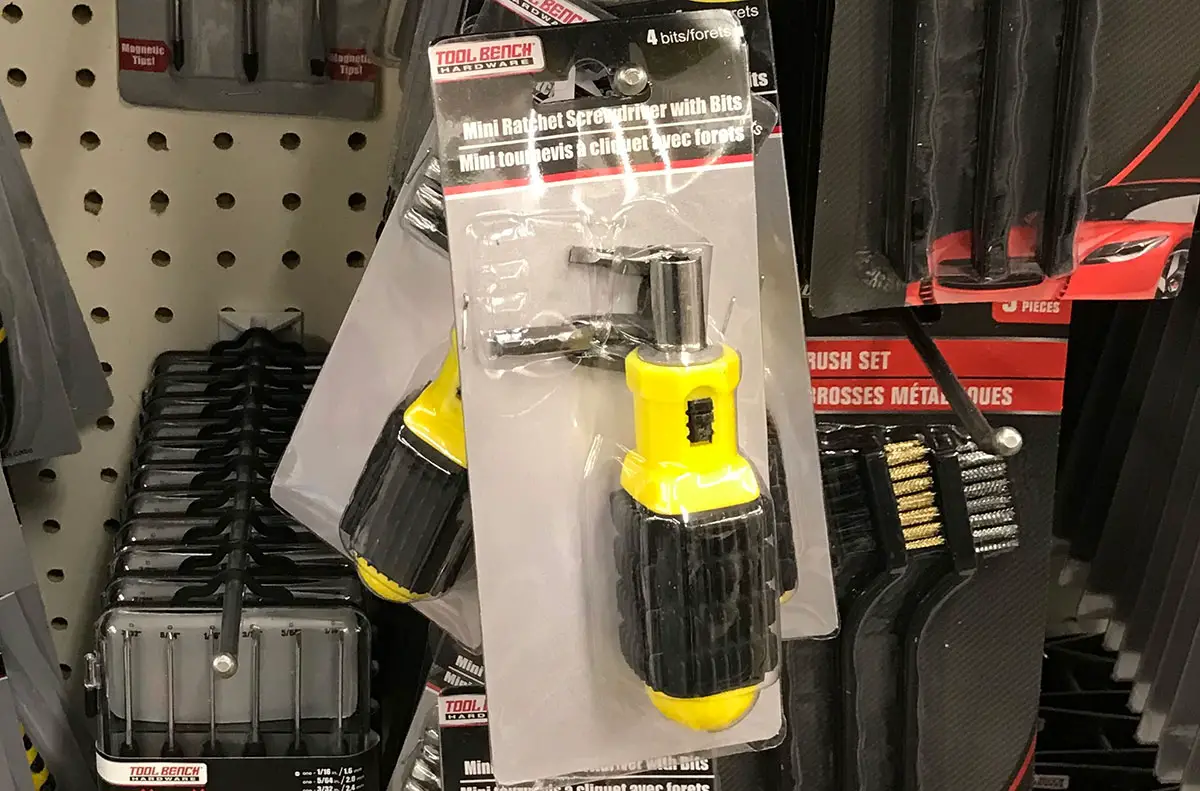 2 – Ratchet Screwdriver
We were very excited to spot this item at the dollar store! Ratchet screwdrivers are very handy for a wide variety of home improvement projects, from putting together that new bookshelf you bought to fixing your kitchen cabinet doors.
3 – Paint Brushes
Talk about savings! Paint brushes can cost you big at the home improvement store, but you won't be afraid to start your latest paint project after you visit the dollar store. You can pick up all the supplies you need and not worry about the wear and tear they receive because you'll be able to afford replacements if you need them.
4 – Nails
Your local hardware store will charge big for items like nails, but the dollar store is here to the rescue! You'll probably find nails, screws, and other hardware at the dollar store for just pennies on the dollar!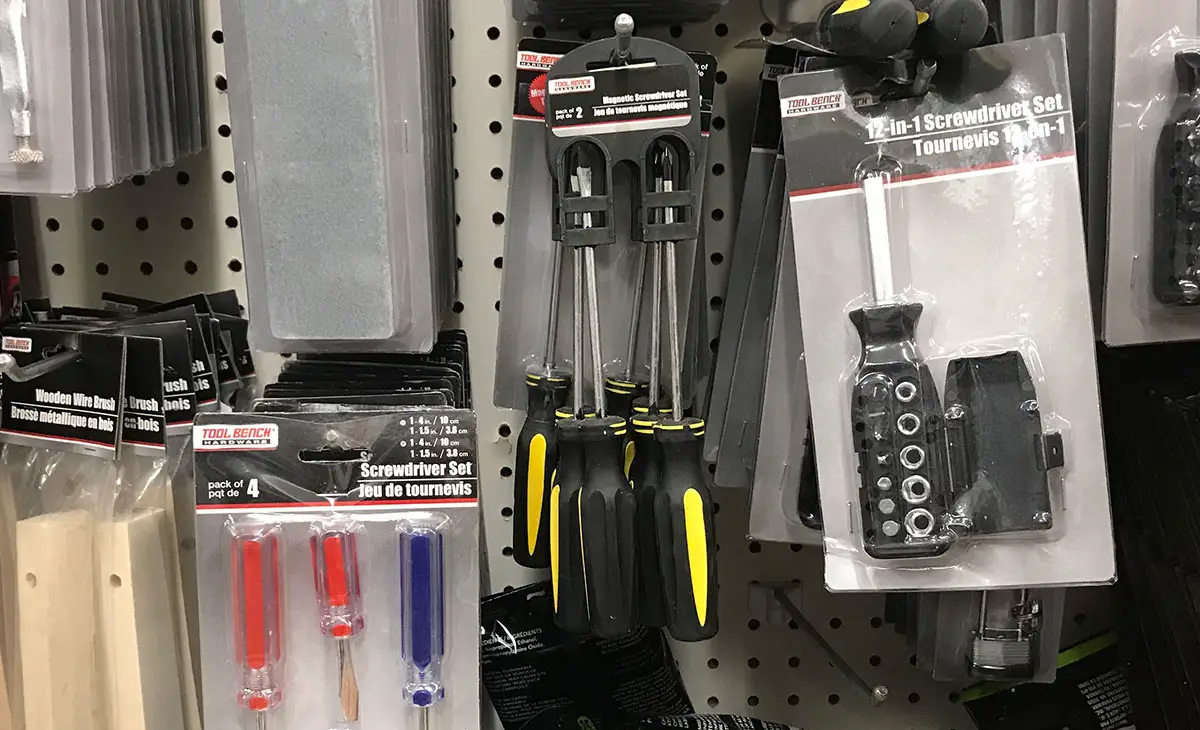 5 – Screwdrivers
The great thing about the dollar store's expanding tool section is that for many tools you'll have more than one option to choose from. That's likely to be true for screwdrivers. Look for this toolbox necessity in many sizes and with many different features and functions–all for the super low price of just one buck!
6 – Locking Pliers
Whether you're working on a leaky pipe or working on your car, anything you need a vise-grip for, you'll find the locking pliers you need at the dollar store. Expect to save big on this item versus home improvement stores.
7 – Wire Strippers
If you thought it wouldn't be worth your while to check the dollar store for specialty tool items, think again! You can probably find supplies like wire strippers for your next electronics project on the shelves of your local dollar store.
8 – Wire Sets
Beyond just tools, you'll find the supplies you need for your projects as well, like wire set spools.
9 – Long Nosed Pliers
This is another must-have for any toolbox. It seems like pliers are a necessity in a lot of home repair projects. Now you can pick some up at the dollar store at a massive savings over hardware stores and big box store chains.
10 – Bungee Cords
Bungee cords are another necessity for many home improvement projects, and also an item that needs to be replaced every so often. Now you can pick up your next set of bungee cords at the dollar store without the headache of a high price tag.
11 – Foam Brushes
Foam brushes are handy for a variety of projects, from painting to finishing to staining. You won't need to worry about keeping track of what substances your foam brushes were used with last–now you can just replace them as needed for the incredibly low price of one dollar thanks to the expanding tool selection at your local dollar store.