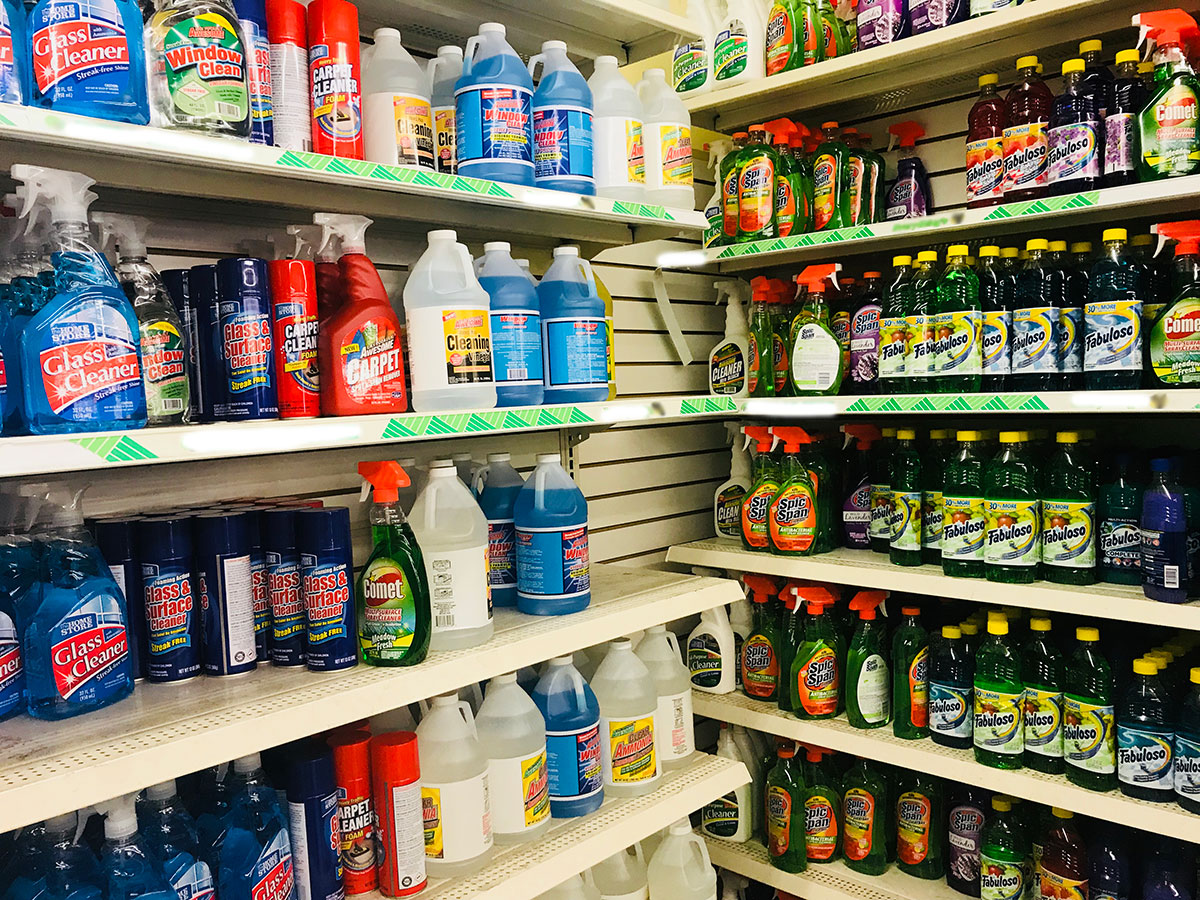 Cleaning supplies are often the hottest deals you can find at most dollar stores. You may already be aware of some of the more well-known cleaning products and tools that you can find for only $1, but we've probably got a few that will surprise you! So before you tackle your next deep clean and think about restocking on all of your cleaning supplies, be sure to check out our list of dollar store cleaning supply must-haves that you won't want to miss!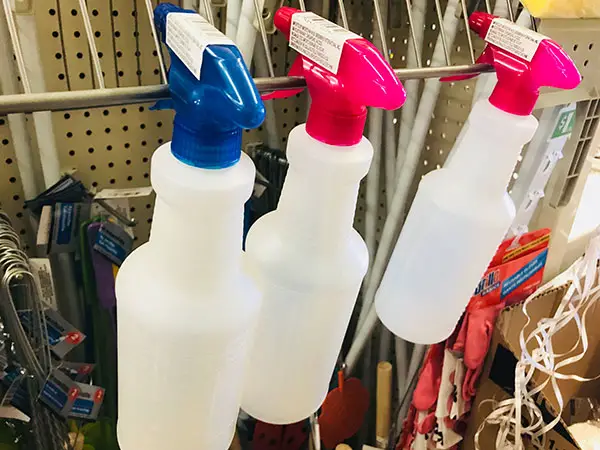 1 – Spray bottles
This is one of the key ingredients for making or customizing your own cleaning solutions. It's also a great way to use and dilute cleaning substances like vinegar or bleach. For only one dollar, you can grab the spray bottles you need to get the custom deep clean you want.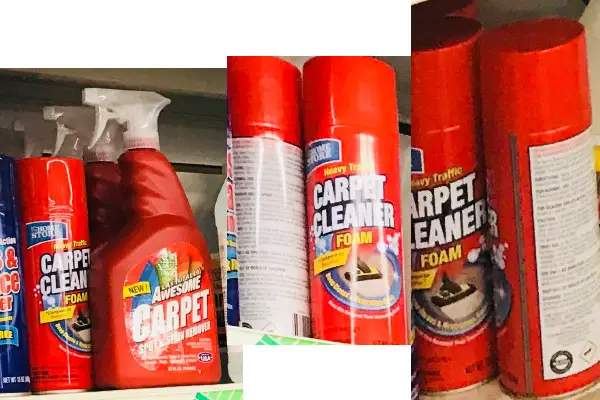 2 – Carpet cleaner
Finding carpet cleaning products at your local $1 bargain store can mean massive savings. You may find foaming, spray, or powdered carpet cleaning products that will be far cheaper than their grocery store or warehouse store counterparts. Often you can even find specialized carpet cleaners made specifically for pet stains.
3 – Sponges
Talk about an item that you often need to replace! New sponges may often find their way into your cart, so it's worth finding the best possible deal on these heavy-use cleaning items. Look no further than your local dollar store. This is a great place to stock up so you'll never have to reach for a torn or moldy sponge without having a replacement already on hand.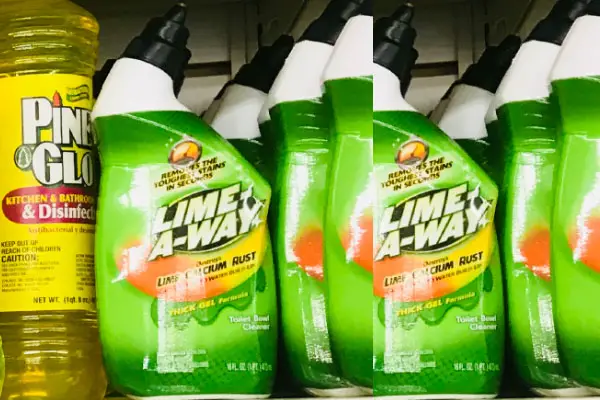 4 – Lime, calcium, & rust cleaners
For those who live with hard or rusty water, lime, calcium, and rust can be a regular cleaning headache. If that's something you regularly face in your cleaning schedule, you'll already be familiar with these kinds of cleaners, and you'll probably also be familiar with the high cost of such cleaners at most retail outlets. Dollar stores to the rescue! Now you can pick up this specialty product for the low price of just a buck!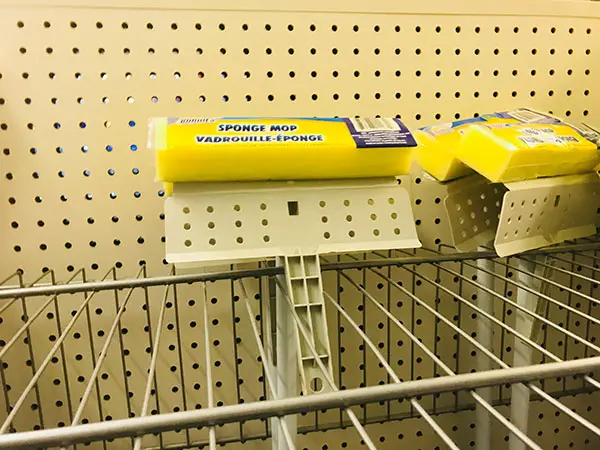 5 – Sponge mops
Your house is only as clean as your tools allow it to be. Sponge mops can be a great way to get hard surface floors squeaky clean. Bet you didn't expect to find these handy cleaning essentials at the dollar store!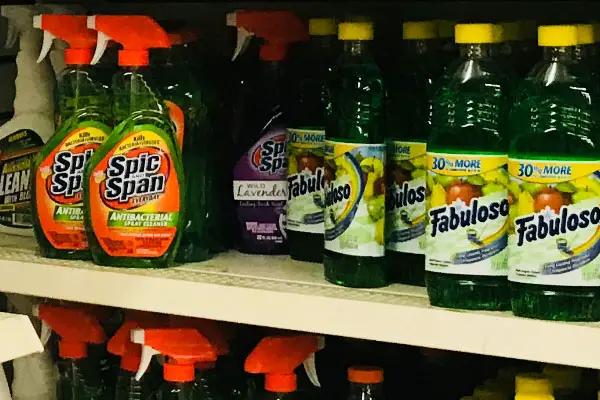 6 – Antibacterial spray cleaners
Whatever you're cleaning, chances are it's covered in bacteria. That's why antibacterial cleaners have become so popular. Whatever your preferred cleaner for the dirty surfaces in your house, the local dollar store probably has a cleaner at the $1 price point that will work for you. Be sure to keep an eye out for refills for these cleaners as well–by reusing your spray bottle, you may save even more on your second purchase!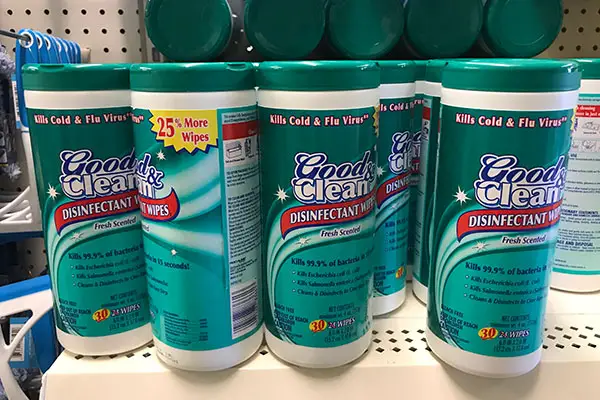 7 – Disinfectant wipes
While we all want to have time to deep clean our houses regularly, often during the time between serious cleanings we need a great short term cleaning solution. Disinfectant wipes have really filled that cleaning gap in a lot of households, and the neighborhood dollar store has been paying attention to that need. Check out this handy cleaner at significant savings!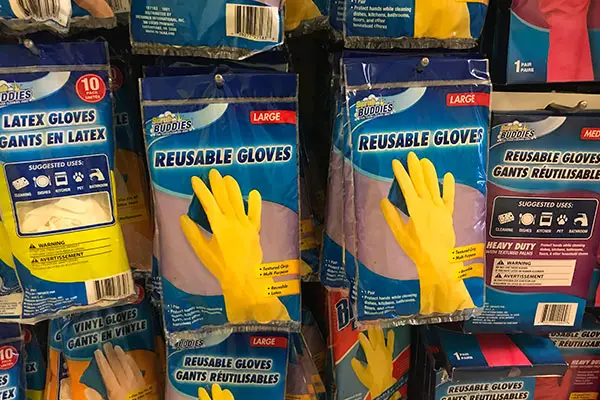 8 – Cleaning gloves
Whether you're cleaning the toilet or washing dishes, you've probably reached for gloves to save your hands and manicure from the exposure not only to germs, but to harsh cleaning products. If you're used to shelling out big bucks for cleaning gloves, consider the dollar store the next time you need a replacement!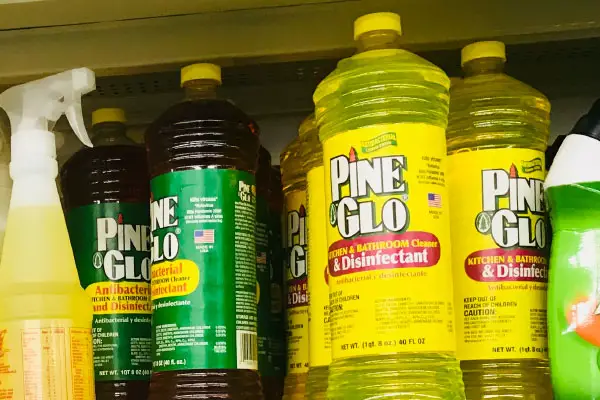 9 – Pine disinfectant cleaners
Did your mom swear by pine cleaners? The dollar store understands! With different options available at many stores, there's probably a pine cleaner that will work for you–maybe even a brand name you already know–at a fraction of what you're used to paying at other stores.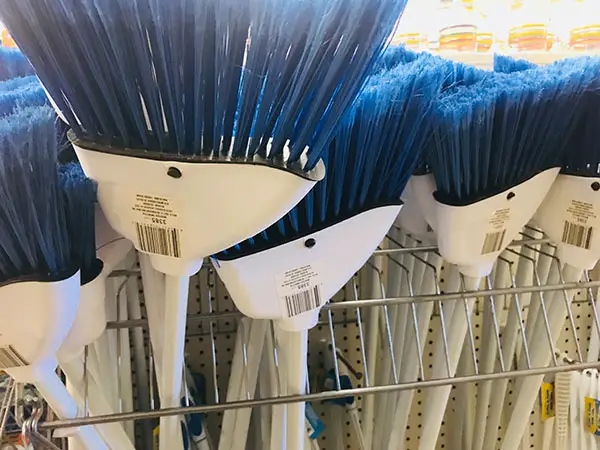 10 – Brooms
Before you mop, you've got to sweep. Sometimes a good sweep is all it takes to clean up between full floor cleanings as well. So whether your two-year-old just spilled a bowl of fish crackers, or you're doing a much needed cleaning of your dusty basement floor, dollar store brooms are ready to get the job done for you!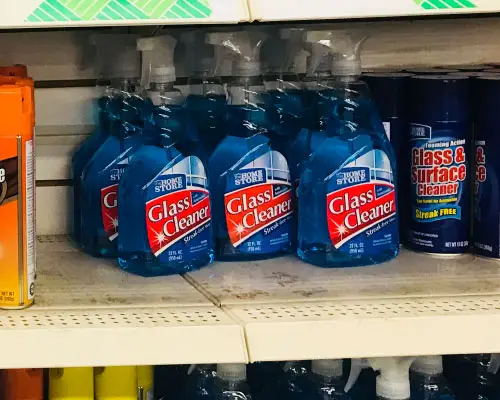 11 – Glass cleaner
It's tough to clean a modern house without a good glass cleaner. Whether you prefer squeeze spray bottles or aerosol spray, the dollar store has an option for you! And the best part is your bank account will thank you for keeping things clear for pennies on the dollar!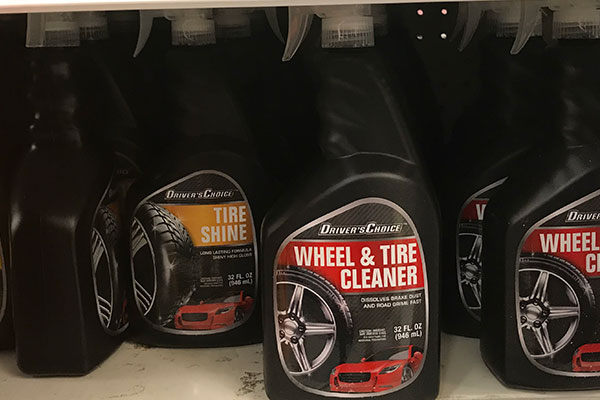 12 – Wheel & tire cleaner/Tire shine
The dollar store's cleaning bargains don't stop at your front door! Even your outside items like automobiles can benefit from dollar store cleaning bargains. Look for tire shine and wheel & tire cleaner on your next trip to the dollar store.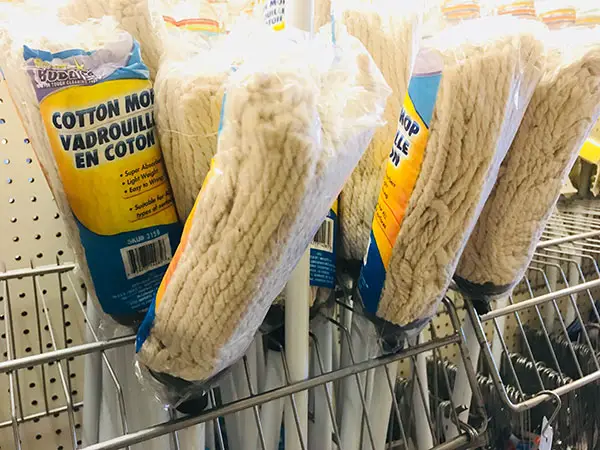 13 – Cotton mops
If sponge mops aren't for you, it's probably old school cotton or dust mops that you reach for. An unfortunate thing about this sort of cleaning tool is that it does have a shorter lifespan and will need to be replaced every few years. That's why it's a great item to pick up for $1 at your local dollar store! You can replace it as often as you need without feeling like you're breaking the bank.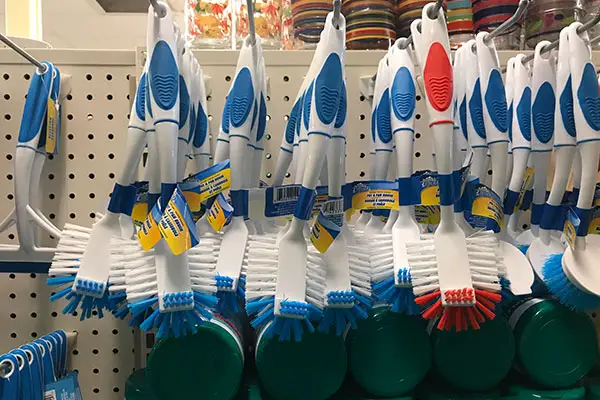 14 – Dish & scrub brushes
For dishes, tile, or any number of cleaning jobs, sometimes a scrub brush is the only tool for the job. The dollar store has just the brushes you need, in a variety of shapes and options.