Crafting can be so fulfilling! Whether you like to sew, knit, paint, scrapbook, or draw, it's important to let your creative spirit fly free. But did you know the dollar store could help you in your creative endeavors? We've scoured dollar store shelves to bring you the best crafting supplies hiding out in the dollar store that you may not have noticed before. So before you head to the big, expensive crafting box stores, check out our list of craft supplies that are cheaper at the dollar store!
1 – Glitter Glue
Talk about a versatile crafting item, glitter glue has a way of showing up in all your crafting projects once you have some on hand. Whether it's to spice up your scrapbook presentations, add some zest to your kids' art projects, as a beautiful overlay your artwork, or just to more beautifully hold together ribbons and bows on flower or basket creations, your local dollar store has the large packs of glitter glue you need at a price that makes sense.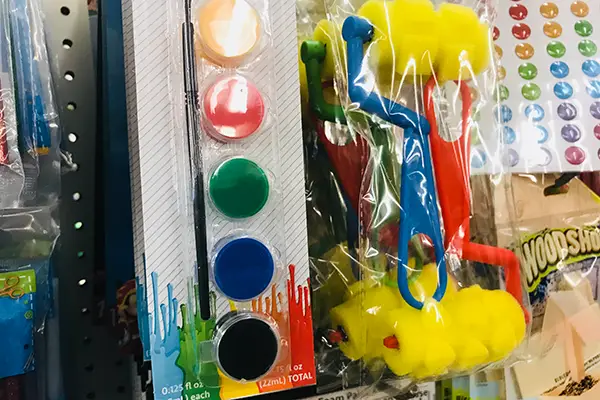 2 – Decorative Foam Rollers
Another crafting item you might find at your local dollar store that is incredibly versatile when it comes to your crafting needs. Use fabric paint on a patterned foam roller to create a fun new t-shirt of denim jacket look. Brighten up your room with a decorative border painted with your foam roller. Or, just pull out some poster board, or a canvas and make a beautiful decorative piece for your walls!
3 – Ribbon
The local dollar store is just the place to pick up great deals on ribbon. You'll most likely find a wide variety of colors, sizes, and looks. There may even be completely different types of ribbon, from opaque to sheer to even lace!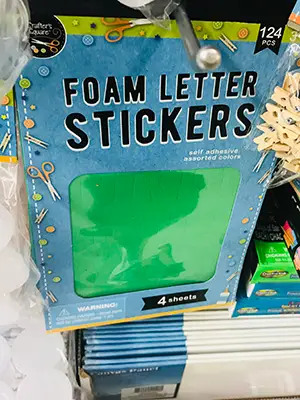 4 – Fancy Scrapbook Stickers
The local dollar store has a plethora of versatile crafting items like foam letter stickers. With many scrapbookers opting to keep prices lower for their hobby, dollar stores have stepped in to supply the sorts of decorative details the savvy scrapbooker is searching for.

5 – Fastener Strips
You don't have to be a seamstress to have a use for this incredibly useful crafting item. Fastener strips can be used to make anything from artwork to pillowcases and everything in between! Great finds like this are why your local dollar store is the first place to go for all your crafting needs!
6 – Faux Flowers
What crafter hasn't dipped their toe into working with fake flowers. Of course, some crafters love to do silk flower arrangements and they know how to make their pieces look lovely and sophisticated. The only downside of silk flowers is how terribly expensive they can be. Luckily, your local dollar store may have a fake flower section just bursting with the varieties and shades you need to make your vision come to life!

7 – Pipe Cleaners
King of kids' art supplies, the pipe cleaner is a time honored art project staple. Your local dollar store probably has pipe cleaners in a variety of colors to spice up your next family art night. And hey, don't let anyone tell you these don't fit into grown-up art projects as well. Many scrapbookers like to bend pipe cleaners to create custom flowers of other items to set off their work!

8 – Scrapbook Embellishments
What scrapbook doesn't need some bling? Scrapbookers are turning to dollar stores to help make their favorite hobby more economically sustainable and dollar stores are really rising to the challenge! At your local dollar store you'll most likely find a wide selection of decorative embellishment items to help make your scrapbook pages pop!
9 – Yarn
Any crocheter or knitter will tell you that their projects often cost more to produce than a similar store bought item simply because of the high cost of yarn. Dollar stores have stepped in to help alleviate some of those cost concerns by stocking yarn themselves. While more expensive yarn may be called for in certain projects, the dollar store may be the best first stop for a beginner!

10 – Stretched Canvas
For the artist, canvas can be one of the more expensive aspects of the hobby. Yet again, your local dollar store may be swooping in to the rescue with stretched canvas options ready to go at that one dollar price point we call can afford!
11 – Watercolor Paint Sets
Chances are if you're a professional artist, you're opting for expensive watercolors from the local art supply store. But if you're a hobbyist like the rest of us, it's important to save cash on crafting where you can. Your local dollar store most likely has a selection of watercolor and other paint set items you can

12 – Glitter
Glitter may not be the most expensive item at a box store, but it's the quantity and variety you can find in a single $1 package that sets your local dollar store apart when it comes to this high volume crafting item. So whatever your personal glitter preferences, check the shelves of your local dollar store for the glitter selections you need.

13 – Mini Clothespins
If you've been trying to figure out how to copy that adorable clothespin art display you saw on Pinterest, your local dollar store may have just the crafting solution you need. Use wire, string, or twine to clip your favorite art, photos, or fabric pieces for a stunning display that is custom-crafted to your exact tastes and abilities.